Lorcan O'Connell
EXECUTIVE CHEF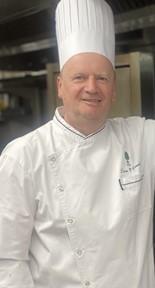 Rolling Hills Country Club is pleased to announce that Lorcan O'Connell joined our staff as Executive Chef, on May 16, 2022.
For over twenty years, Chef Lorcan O'Connell has been honing his craft in country clubs located in the suburbs of New York City. Most recently he spent seven years as Executive Chef at Old Oaks Country Club in Purchase, NY. Prior to that, Chef Lorcan was Executive Chef at Metropolis Country Club in White Plains, NY.

Since emigrating from Ireland in 1994, his career has taken him from Nutley, NJ to Danbury, CT with stops along the way in Boca Raton, FL and Kansas City, KS. A brief stop in Maryland preceded his arrival at RHCC.

As a member and former president of The Club Chefs of Westchester, Chef Lorcan has travelled to many countries on culinary education trips. This has helped him develop a taste and passion for many cuisines, which is reflected in this cooking style.

Passing on his knowledge of food to aspiring chefs is important to Chef Lorcan. He maintains close ties to The Culinary Institute of America in Hyde Park, NY and has been mentoring culinary externs for almost 20 years.

A golfer, hiker, gardener and cyclist, Chef Lorcan lives in Danbury with his wife Caroline, daughters Ashling and Michelle, and their beagle, Clive.