Men's and Ladies Golf Programs
Ladies Golf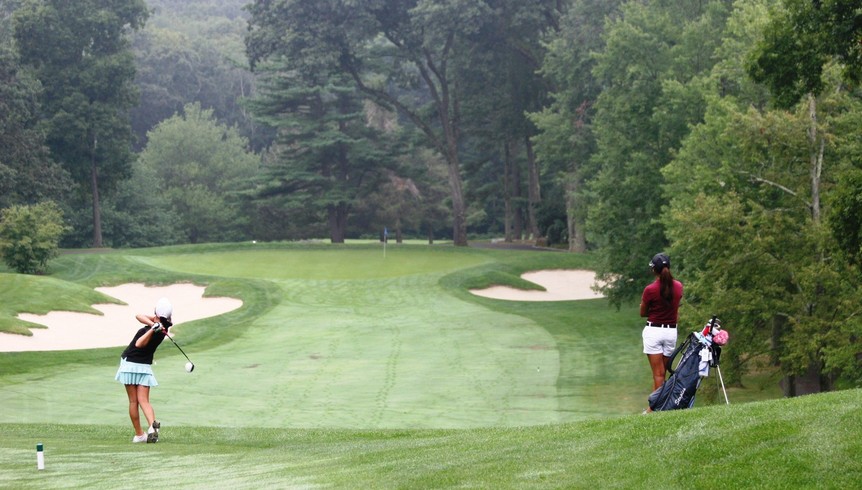 Rolling Hills Country Club takes pride in making women feel welcome and comfortable on the golf course. We have programs for players of all ages and abilities and encourage ladies to come out everyday any time to play.
The Rolling Hills ladies golf program has several interclub leagues for both 9 and 18 holes, each combining golf opportunities and friendly competition home or away at other area private golf clubs.
Tuesday mornings Ladies Day is designed for those who enjoy playing 9 holes of more informal golf and 18 holes of fun competition followed by a group luncheon. The Wednesday evening "Stay and Play" and the Thursday evening "Nine and Wine" adds a social and fun aspect with the opportunity for drinks or dinner afterwards.
Golf classes and clinics are offered at all levels, as are individual lessons with any of our PGA staff. Whether your goal is to hone already advanced skills or simply to feel more confident and relaxed on the course, Rolling Hills has an offering that is right for you.
Men's Golf
The Interclub is a season-long match play competition among ten golf clubs in Westchester and Fairfield counties. Participating members include three clubs in Connecticut (Fairview CC in Greenwich, Rockrimmon in Stamford, and Rolling Hills) and seven clubs in New York (Metropolis in White Plains; Fenway, Quaker Ridge and Sunningdale in Scarsdale, and Brae Burn, Century and Old Oaks in Purchase). Many of the clubs have distinguished histories. (Century was founded in 1908, Quaker Ridge in 1916, Metropolis in 1922, Fenway in 1924 and Old Oaks in 1925.) A number of these courses were designed by renowned architects (Colt & Alison designed Century and Old Oaks, A.W. Tillinghast designed Metropolis, Fenway and Quaker Ridge, and Robert Trent Jones designed Rockrimmon and Fairview).
The format is team four-ball (better-ball) with each club represented by three two-man teams. Teams are awarded 1 point for winning the front nine, 1 point for the back nine, and 1 point for the total 18-hole match. Ties give each team 1/2 point. So 3 points are awarded for each match, with 9 points at stake for the club's three teams collectively. Each club hosts the Interclub once each season, and points are accumulated over the entire season. The club with the most points at the end of the year is awarded a trophy, which Rolling Hills has won once. Players maintaining a USGA handicap index between 3.0 and 21.0 are eligible to compete.